As a sports fan, one of my favorite things about sports is debating. Whether it is about a team or a player. The biggest debate was the goat debate in basketball between Lebron and Jordan. There are other debates in basketball, however, such as best by position. These debates usually are on an all-time basis. In football, however, for the position debates, we usually go by a decade or by generation. Such as Adrian Peterson is the best running back of our generation and Barry is the best of his generation. For DB in our generation, Darrelle Revis is largely considered the best defensive back and I think it is time we reconsider that and mention Jalen Ramsey in the conversation.
Comparison
This may seem outrageous and premature to a lot of people and rightfully so, because in his prime he left some very notable receivers stranded on Revis island from  Randy Moss to Terrell Owens .
(as you can see by this chart above) Ramsey, has a very similar resume in a season as you can see below.
I think the one thing to separate them and why I have Ramsey as the best Defensive Back of our era is his versatility. Ramsey this season has shown proficiency at the nickel spot and safety spot this year and still following the number one receiver around if the team needs it. Since acquiring Ramsey the Rams have been one of the most feared defenses.
Versatility
Ramsey has lined up snaps this season at corner, slot, free safety, linebacker, and even defensive line. He is tied for first on the team in interceptions and solo tackles 2nd on the team in TFL's, and 1st in pass deflections not only has Ramsey been versatile he has been the best no matter where he has been lined up. Darrelle Revis might take a receiver out of a game plan. Jalen Ramsey can move around and take entire elements from an offense.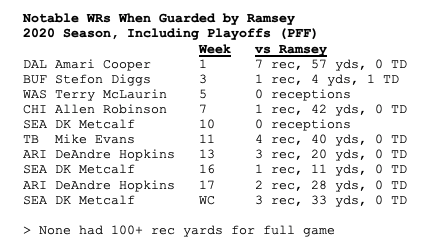 Impact
Another element of Ramsey's game which I think adds to his greatness is how he impacted defenses he has joined. When he first joined the Jaguars, they had the fifth pick and were a bottom five team. By his second year they go to the AFC championship with the moniker "Sacksonville" and the best Defense in football. He is then traded to the Rams a few years later, who already had Marcus Peters and Aqib Talib and a pretty solid defense. After he comes to the Rams, they become an even better defense and as of this year and seem to be a Super Bowl Contender.
While Jalen Ramsey still has a lot to prove and a long time to go in his young career, he has already left a mark. While I don't think he is better than Deion and honestly, he might not yet be better than Revis I think he has done enough to at least be in the conversation for best Defensive back of this generation. I also believe as this year finishes and he continues to shut down no. 1 option after no. 1 option and the Rams fight for a Super Bowl spot, he will only further his case.
https://nolimitjumper.com/nfl/